Elitebet and Sportybet are two reputed online sports betting sites that Kenyan bettors ought to consider when they are searching for the best online sports betting sites in Kenya. While Elitebet can hardly be called one of the best online bookies in Kenya, Sportybet definitely occupies the list of online bookies worth signing up at.
Both the online bookies operate on a license granted by the Betting Control and Licensing Board (BCLB) of Kenya, but Elitebet stands in a class of its own. You can bet on only one sport at Elitebet—football. Although it's live betting product and mobile betting interface are not up to the mark, Elitebet attracts football bettors through a selection of bonus offers and features such as bet refund.
The following are comparative reviews of Sportybet Kenya and Elitebet Kenya to help you choose between the two.
Overview of Sportybet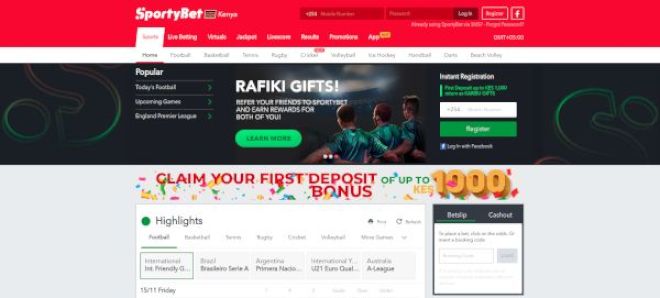 Sportybet Kenya is an online, mobile, and live betting site that offers virtual games betting and a generous football jackpot. The online registration procedure is instant, enabling you to get started without any waste of time.
Kenyan bettors are fond of Sportybet for the following reasons:
User friendly and well-designed online and mobile betting interface
Fast registration procedure
Generous first deposit bonus
Cashout to secure bets, minimize losses, and maximize profits
BCLB licensed online bookie
Supports responsible gambling and offers online betting management tools such as self-exclusion
SportyBet – Detailed Review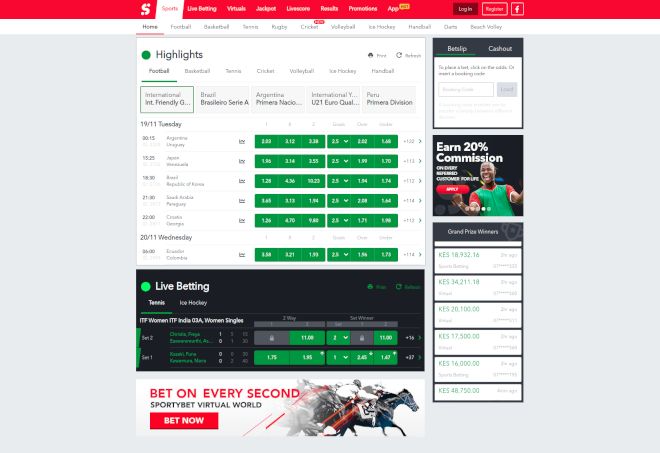 It takes just a few minutes to get registered at SportyBet. If you don't want to fill in an online registration form, you can sign up through Facebook. You can login to your account after confirming your mobile number.
The online bookie gives you two more ways to get registered:
Via SMS– Send an SMS JOIN to 29123. The online bookie will create an account and SMS the login details to you. You can use those details to access your betting account.
Instant Registration– You can skip filling those long registration forms by using the instant registration form displayed on the homepage. Type your mobile number, click on the Register button, and confirm your mobile number.
Exciting Bonus Offers and Promotions at Sportybet

Sportybet designs a number of exciting bonus offers and promotions, and here are the details:
Karibu Gifts– When you load your Sportybet betting account for the first time, you qualify for a cash bonus. The size of this bonus depends on the size of your deposit amount. The online bookie offers KSh150, KSh300, KSh600, and KSh1000 if you deposit KSh50, KSh100, KSh200, and KSh300, respectively.
Rafiki Gifts– You can claim a generous refer-a-friend bonus at Sportybet if you refer depositing players to the online bookie.
Sportybet designs new promotions on a regular basis, which means that you will never be short of entertainment and incentives to bet at the online bookie.
Making Deposits and Withdrawals– Sportybet is an M-Pesa online bookie. You can use M-Pesa to make deposits and withdraw your winnings. The online bookie does not charge for making deposits and withdrawals, but your carrier may charge fees.
Mobile Betting at Sportybet Kenya– If you are always on the move or use only a smartphone, you can easily access your Sportybet account on your mobile device. Sportybet offers a native betting app for Android 4.0.3 or higher. You can easily download it on your smartphone or tablet and enjoy the best features of the online bookie on the go.
The mobile app is data friendly, ensuring that you will never run into huge data bills. You can use the app all day without spending over 6MB data.
SportybetMobile Games to Bet On – You can place bets on a variety of sports markets such as tennis, rugby, football, basketball, darts, handball, beach volley, and others. The online bookie also offers in-play betting on tennis, ice hockey, basketball, handball, darts, and others.
In addition, you can bet on virtual games such as greyhound racing, bike racing, horse racing, speedway, and league.
Win KSh5,000,000– To win this breathtakingly huge jackpot at Sportybet, you have to correctly predict the outcomes of 12 football games. However, the online bookie will not send you away empty handed if you get a few of those outcomes wrong.
How to Get Help?

SportyBet is an informative website, as it offers plenty of SMS tutorials and an exhaustive Frequently Asked Questions (FAQ) section.
The online bookie encourages social interaction on its Facebook and Twitter accounts. If you need to contact a customer support agent, you can email to kenya.support@sportybet.com or dial the number 020-764-0825.
Sportybet also offers live chat functionality with a search bar. You can use the search bar to find the required information or type your phone number and click on the Live Chat button to connect with a customer support agent.
Sportybet Kenya allows you to win up to KSh1,000,000 per bet, but there is absolutely no limit on jackpot wins. You can bet on up to 30 games at a time and withdraw your winnings any time you please. Make sure that you withdraw at least KSh500 else your carrier may charge you a fee of KSh16. If your withdrawal request is for an amount lower than KSh140,000, you will receive it in an instant else you may have to undergo a verification procedure.
Sportybet Casino offers the cashout feature, enabling you to cashout bets that are not moving in your favor. However, you can only cashout bets worth not less than KSh100.
Overview of Elitebet Kenya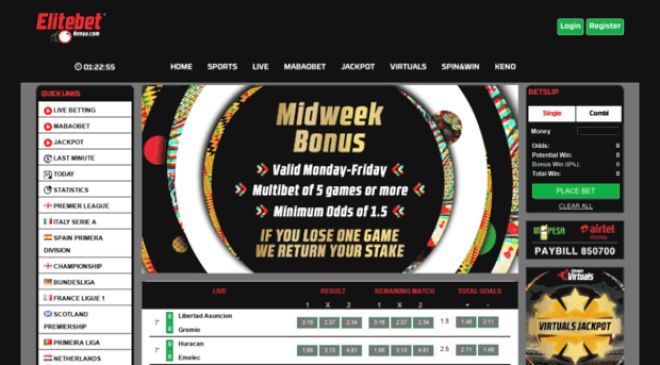 EliteBet is a brand belonging to Seal Capital Partners Limited, a firm that has received an online betting license from the Betting Control and Licensing Board of Kenya (BCLB). Elitebet is very popular among Kenya's football enthusiasts as it specializes only in football betting. It is the only Kenyan online sportsbook that offers only one sports market—football.
Elitebet is popular among Kenyan bettors for yet another reason. It allows bettors to make deposits and withdrawals using Kenya's favorite mobile wallets services—M-Pesa and Airtel Money.
EliteBet – A Detailed Review

Getting registered at Elitebet is an easy procedure. All you have to do is send the online bookie some money and make your first deposit. You can send your deposit amount to account number Elitebet and business number 850700.
When the online bookie receives the money, it will send you a PIN through SMS. You can use this PIN along with your mobile number to login to your Elitebet betting account. You can then start placing bets on your favorite sport—football.
If you don't want to make a deposit right away, you can visit EliteBet Kenya on your browser, click on the Register button, and fill in your details in the online registration form. Before logging in, you have to verify your phone number. You also have to send your identification documents to the online bookie for verification purposes.
How to Win KSh5,000,000 at EliteBet – You have to first place a bet of KSh50. Then you have to correct predict the results of 15 football games to win the big jackpot of KSh5,000,000. If you get a couple of outcomes wrong, you will still receive smaller prizes.
Bonus Offers – At the time of writing, Elitebet does not offer any welcome bonuses. However, you can claim the following bonus offers at the online bookie:
Multibet Refund – You can get a multi-bet refund in the middle of every week at the online bookie. To claim your refund, you have to place a multi-bet with at least five selections in it. If you lose just one of the bets in your multi-bet, the online bookie will refund your stake amount.
Bonus Boost – The bonus boost applies only to multi-bets. You can get a bonus of up to 100% on your winning multi-bet. The exact bonus amount depends on the number of selections in your multibet. Accordingly, you can claim a bonus of 10% on multi-bets with 5 – 9 selections, 50% on multi-bets with 10 – 19 selections, and 100% on multi-bets with over 20 selections.
Friday Bonus – To qualify for this offer, you have to place bets regularly in the course of a week.
Refer-a-friend Bonus – The online bookie will give you a bonus of 100KSh for every depositing friend you refer. Your friend has to deposit and bet at least KSh100 during the first 31 days of registering an account.
Deposits and Withdrawals at EliteBet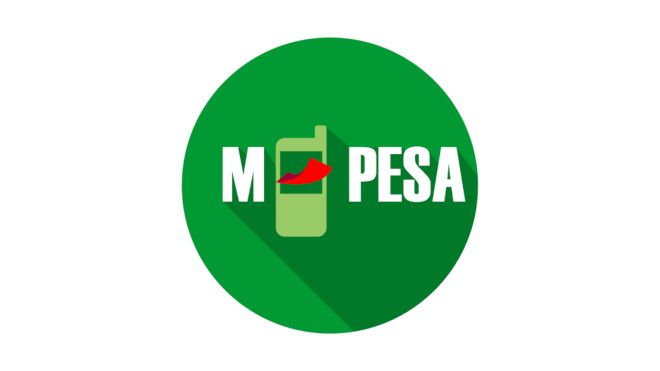 Kenyans will find it very easy to load their accounts and withdraw winnings. This is because EliteBet offers only two payment methods and both are very popular and widely used in the country. They are M-Pesa and Airtel Money.
Mobile Betting – Bettors signed up at Elitebet Kenya report that the mobile betting interface is far from perfect. Moreover, there are no dedicated mobile betting apps to download and install. You have to bet in browser. If Elitebet Kenya's web application fails, you can always place bets through SMS.
Customer Support at EliteBet Kenya – Elitebet Kenya has a 24/7 live support system. Alternatively, you can send an email to alex@elitebetkenya.com or dial the telephone lines.
EliteBet Kenya or SportyBet Kenya?
Needless to say, it depends a great deal on your personal requirements. If you live and breathe only football, you will be happier at EliteBet Kenya. At the same time, you must consider the fact that SportyBet Kenya not only offers online football betting, but also betting on a wide range of other sports markets such as cricket, rugby, tennis, and others.
Let us first consider the pros and cons of betting on each online bookie to help you to make a choice.
Betting at EliteBet Kenya – The Pros & Cons  
The biggest advantage of Elitebet also happens to be its biggest disadvantages – the focus on football. Bettors are also unhappy that Elitebet offers odds much lower than those offered at international online bookies. Elitebet offer live betting on the football market, but the quality of the live betting product is rather poor.
The website design and color scheme of Elitebet is also disappointing. It just fails to attract bettors, even if they love football.
On the brighter side, Elitebet offers a large football jackpot, allows bettors to cancel their bets, and also refunds stakes if bettors lose one bet in a multibet of at least five selections.
Since Elitebet offers SMS betting, you can place bets even if your Internet connection fails you.
Betting at SportyBet Kenya – The Pros & Cons

SportyBet Kenya is a licensed online and mobile bookie that maintains a secure betting environment. The biggest selling points of the online bookie are its extensive selection of sports markets, top-rated customer support, virtual games betting, football jackpots, and bonus offers.
The online bookie offers several ways to get registered. You will find it easy to navigate the website and find the information you require to get started. If you are new to betting, you can check out the online bookie's SMS tutorials on how to make profits from online betting.
While you enjoy the online sports betting experience at Sportybet Kenya, you may miss lucky number betting and casino games.
Which one would you choose?
If you are a die-hard football enthusiast, you will be happier at Elitebet. At the same time, Sportybet can also give you everything that Elitebet does.
Sportybet offers betting on a variety of sports markets while Elitebet offers only football betting.
Sportybet's mobile betting interface is excellent while Elitebet's still does not meet expectations.
Both offer excellent customer support and give away bonuses.
Sportybet offers cashouts, while Elitebet does not. Instead, it allows you to cancel bets and get refunds on multiple bets.
Now that you know the pros and cons, you can weigh them carefully before making a choice as to which online sportsbook you think will suit you better!