The worst thing you can do when you are shopping for something is to purchase the first product you come across in the first shop you enter. It is sure way to end up dissatisfied as you are sooner or later going to find out that there was a better deal not too far away. This principle applies to all products and services whether they are purchased at a retail store or online.
When it comes to online betting sites in Kenya, the same principle is applicable. You have to invest time and effort in comparing various products, taking into consideration criteria such as quality, pricing, and many others to get the best deal.
Since online sports betting is a regulated activity in Kenya, the country offers plenty of Kenyan online sportsbooks. All Kenyan online bookies operating under a license issued by the Betting Control and Licensing Board (BCLB) of Kenya are good, but some of them are definitely better than the others.
We advise against signing up at any Kenyan betting site in a hurry. Instead, handpick the best betting sites in Kenya and compare them with one another, weigh their pros and cons, and register at one or many that can best meet your requirements.
Best Kenyan Betting Sites – How to Find Them?
We cannot declare any one or some Kenyan betting sites as the best as it depends on individual tastes, preferences, and requirements. For example, Kenyan bettors interested only in placing sports bets may feel uncomfortable at large betting sites that not only offer online sports betting, but also lottery games, virtual games, casino, poker, bingo, lucky numbers, and others.
Another example, if you are a Kenyan bettor who prefers betting on mobile, you may prefer software that does not consume too much data or mobile bookies like Betin Kenya, which offer mobile deposit charge cashback.
We recommend considering the following criteria while selecting the best online betting site in Kenya:
Licensing– Check for a BCLB license.
Ownership– Make sure that the parent company is reputed, financially sound, and has ample industry experience.
Betting Markets – Find out if the online bookie offers a wide choice of pre-match and live betting options.
Promotions & Bonus Offers– Does the online bookie offer bonus offers, promotions, football jackpots, and rewards for loyalty?
Banking Methods– Are you comfortable with making deposits and withdrawals with the payment methods listed on the online bookie's banking page?
Customer Support– Test the customer support for promptness and courteousness.
Here is a simple step-by-step guide to identifying the best Kenyan sports betting sites:
Read reviews of multiple Kenyan betting sites.
Make a list of the pros & cons of each betting site.
Compare the pros & cons of different betting sites to identify the sites that best meet your requirements.
Read testimonials or discuss the online bookies on social networking sites or betting forums.
You can sign up at multiple online betting sites to get the best of each of them.
The following are the pros & cons of some of the top online betting sites in Kenya…
1xBet Kenya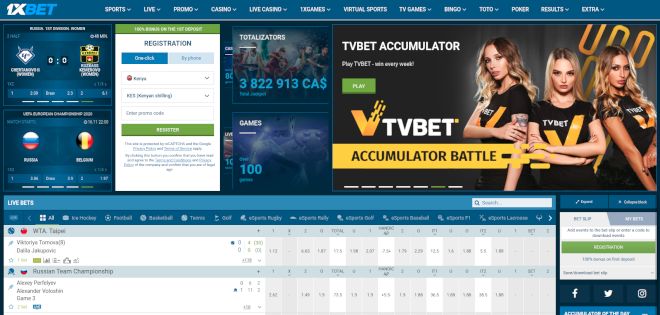 This is one of the most popular online bookies in Kenya. Licensed by the BCLB, it delivers a safe and secure online betting environment.
In addition to pre-match and live sports betting, 1xBet Kenya offers betting on casino games, poker, bingo, and many others. Customer support is excellent and you can choose from a wide range of betting apps for desktop, Mac, and mobile devices.
But 1xBet Kenya is a large betting site that may confuse Kenyans looking for a simple sports betting experience.
Betika Kenya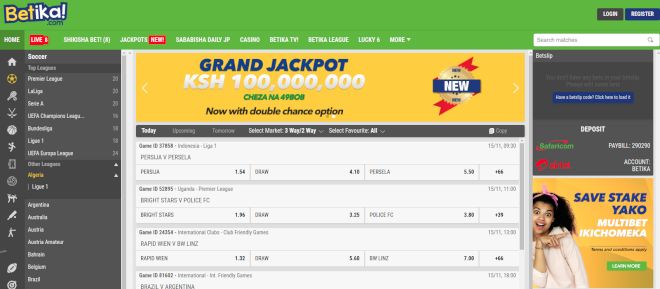 You may find it difficult to get the required information at Betika Kenya because of the absence of a FAQ and links to important pages such as bonuses, payment methods, promotions, and customer support.
To make up for this, the online casino offers plenty of sports markets, casino games, lucky numbers, and football jackpots. But you can't cashout non-profitable bets and withdrawals are not free of charge.
On the brighter side, Betika has a BCLB license and offers excellent customer support through live chat and telephone lines.
SportPesa
Has a flawless, well-designed, bettor friendly, and easy-to-navigate website. In addition to offering pre-match and live betting markets, SportPesa offers features such as live scores, results, statistics, news, and others that may help you place profitable bets.
SportPesa Mobile includes a dedicated app for Android, but none for iOS. Its Help section is not that exhaustive, but the customer support agents are more than willing to answer your questions.
On the downside, SportPesa does not offer any lottery, casino, bingo, or poker gaming services. But it is worth signing up at for unique features such as large football jackpots and JengaBets.
Sportybet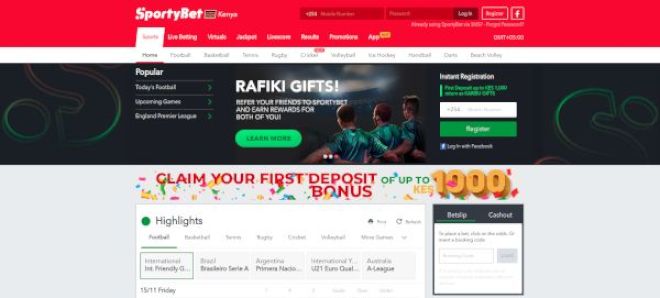 Offers dozens of betting markets, betting options on a variety of international and national games, generous bonuses and offers, virtual game betting, large football jackpots, and excellent customer support. You can get registered through SMS in a matter of seconds.
The website is rather difficult to navigate and you will find yourself clicking and scrolling up and down a lot. Still, it is an informative website, providing details of the online bookie's privacy policy and responsible gambling policy and offering plenty of betting tutorials.
Sportybet is just an online bookie; there is no casino or lucky number betting.
Betpawa

The online betting experience at Betpawa is quite decent, but not the best. The online bookie's selection of sports markets is just not wide enough to capture interest. It offers great customer support through email, Whatsapp, and social networking sites although it does not have a live chat option.
The best features of Betpawa are its well-designed mobile betting interface, 100% win bonus on winning multi bets, support for responsible gambling, and refer-a-friend bonus.
Compare Kenyan Betting Sites and Sign Up Now
The above are pros & cons of just a few online bookies that operate in Kenya. If you browse this website, you will come across comparative reviews of several top-rated Kenyan online betting sites. We encourage you to read them all before making your choice.