22Bet Kenya and Sportpesa are two of the most popular online sportsbooks in Kenya. They offer a licensed, secure, and entertaining online sports betting platform, which no Kenyan bettor can resist.
The parent company of the former is Pesa Bets Limited and that of the latter is Pevans E. A. Limited. Both companies have received a license to offer online sports betting services within Kenya by the country's Betting Control and Licensing Board (BCLB).
You can sign up at either Sportpesa or 22Bet, but we recommend reading these reviews before you come to a decision.
Sportpesa Kenya – Brief Introduction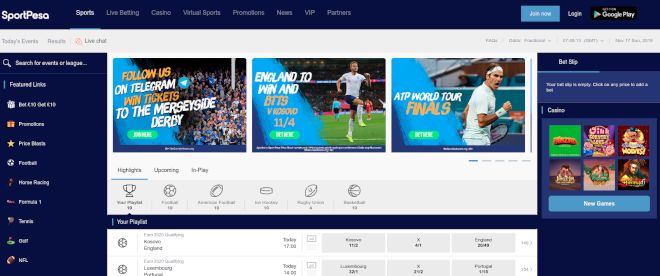 Sportpesa allows Kenyan bettors to not only bet online, but also via the native app for Android, SMS, as well as USSD.
If you choose to sign up at Sportpesa, you can use tools such as statistics, live scores, results, and news to stay updated on the latest happenings in the world of sport. You can then use this information to place profitable bets. Sportpesa, therefore, is not just an online bookie, but also a portal that teaches you how to profit from your bets.
Sportpesa is also a bettor friendly online bookie. It not only encourages social interaction through social networking sites such as YouTube, Twitter, and Facebook, but also supports responsible gambling and encourages its Kenyan customers to use gambling management tools such as self-exclusion, account closure, and limit setting to bet within their bankroll limits.
22Bet Kenya – Brief Introduction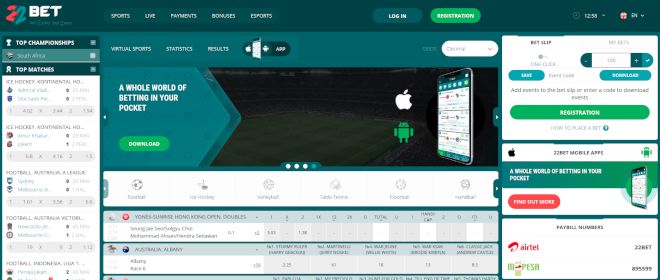 22Bet Kenya offers a wide range of betting markets, live forums, chat rooms, and comprehensive betting guides. In addition to betting on popular sports such as football, tennis, snooker, cricket, football, eSports, and others, you can bet on live events, TV shows, and lottery games. You can also view live updates of game results and use it to adjust your bet size to maximize your returns.
22Bet is special as it offers 1000+ events every day and 30+ market varieties of each event. The online bookie keeps its bettors entertained with loyalty rewards, lucrative promotions, and large bonus offers. You get Special Bet Points for placing bets on your favorite sports, and later you can redeem your points in the Fan Shop for souvenirs or bonuses.
Detailed Review of SportPesa
There are two ways to open a Sportpesa account—online or SMS.
If you choose to register online, you just have to click on the Register now link at the top to open the online registration form. Fill in your details accurately and click on the "Get Registration Code" button to receive a code on your mobile device. You have to now use this code to verify your mobile number. You can login to your betting account and start placing bets only after you have successfully verified your mobile number.
If you choose to register via SMS, you have to SMS GAME to 79079. You will receive a reply from the online bookie with a link to its terms & condition. You have to SMS ACCEPT to the same number to indicate that you have read and accepted the terms & conditions. Finally, you will receive a 4-digit PIN and a Paybill number via SMS. You can use your mobile number and PIN to login to your newly created Sportpesa account.
Games to Bet On– You can place pre-match bets on a variety of sports markets, including MMA, boxing, motor sports, tennis, volleyball, football, and ruby. You can also place live bets on basketball, tennis, and football.
Sportpesa also offers a unique feature called JengaBets, which you can use to maximize your profits. In addition, you can win a breathtakingly large jackpot of KSh26,642,704 if you correct predict the results of 13 football games. This certainly makes life interesting for football lovers.
Mobile Betting– Sportpesa is fully optimized for betting on the move. You can access your existing account and start betting in your browser without having to download any app or software program.
If you are an Android owner, however, you have the option of downloading a dedicated mobile betting app for Android 4.1.1 or higher. SportPesa's mobile betting app for Android features football jackpots, live games, and JengaBets, and the betting interface allows you to view up to four markets simultaneously.
M-Pesa Deposits and Withdrawals– You can use Kenya's favorite payment method M-Pesa to fund your Sportpesa betting account and to withdraw your profits. You can also withdraw your money by sending an SMS W#withdrawal amount#8888 to 79079. This works for both Airtel Money and M-Pesa withdrawals.
SportPesa News– SportPesa manages Sportpesanews.com, a website dedicated to sports news. You can visit this website regularly to stay updated on the latest happenings in basketball, rugby, football, athletics, and other sports. Regular research of various sports markets and staying updated on the latest happenings is essential to making correct predictions and winning your bets.
Getting Customer Support at SportPesa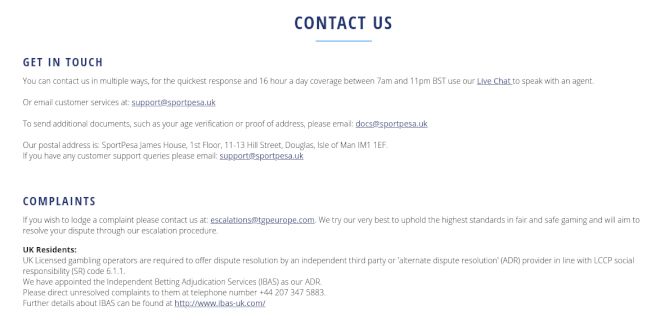 Sportpesa encourages social interaction on Twitter, Facebook, and YouTube. You can like or follow the online sportsbook's pages/accounts on social networking sites to interact with its staff members and fellow bettors.
Alternatively, you can contact a customer support agent through live chat, write to Sportpesa, P.O. Box 38477 – 00100, Nairobi, or send an email to care@sportpesa.co.ke.
To open an account at Sportpesa, you have to be at least 18 years old. You can open only one Sportpesa account at a time. The betting environment is transparent as you can view your transaction history of the past 30 days whenever you wish. If you have made a deposit that you would like to withdraw without using it for betting, you can do it. But you will have to pay the online bookie a 10% processing fee on the amount.
Pros & Cons of Sportpesa Kenya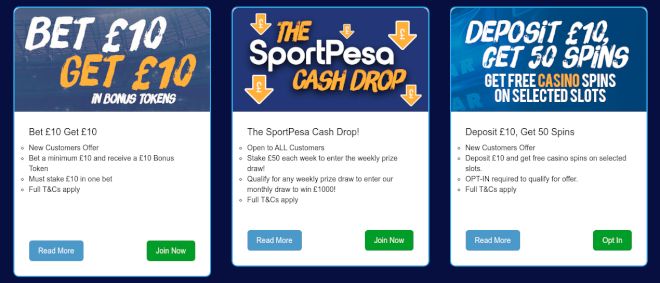 Although it offers plenty of pre-match betting markets, Sportpesa Kenya's live betting product does not meet expectations. Sportpesa is just an online bookie—it does not offer any bingo, poker, lottery, lucky number, or casino betting. But it does offer unique features such as JengaBets.
Also, Sportpesa is among the few online bookies that actually provide tools to help you bet profitable. These tools come in the form of news updates, statistics, live scores, and results.
You can bet on the go and even download an Android app, but there is no dedicated app for iOS.
Detailed Review of 22Bet Kenya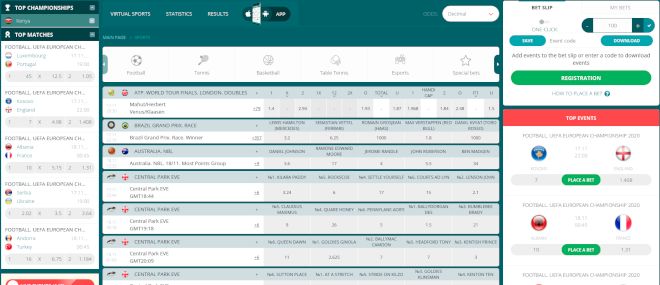 You can get registered at 22Bet in a matter of minutes. The online registration form will appear on your screen as soon as you click on the Registration button. A mobile confirmation is required before you can login in to your betting account and start placing bets on your favorite sports markets.
Claim Plenty of Bonus Offers: 22Bet welcomes its new players with a generous welcome bonus. If you load your account, you can claim 100% up to KSh15,000 and 22 Bet Points. The minimum qualifying deposit is KSh1. You can opt out of receiving the welcome bonus if you wish.
Every Friday, you can claim 100% up to KSh12,000 on your top up. To qualify, you have to deposit at least KSh1 in your account.
Mobile Betting at 22Bet – You can either bet on the move in your browser or download the dedicated mobile betting app for Android and iOS.
Top Features of 22Bet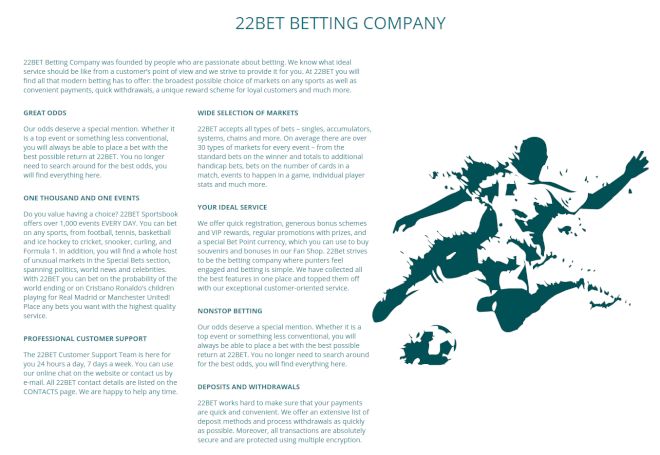 22Bet is a feature-rich online bookie. Its biggest selling point is its huge selection of pre-match and live betting markets. But it offers something more—a social betting experience. You can head over to its chat rooms and live forums, share tips, predictions, and strategies with fellow bettors, and learn from the betting experts.
22Bet Kenya is also a sort of betting school, where you can find plenty of how-to pages, tutorials, and guides to betting. If you get bored with sports betting, you can wager on live events, lotteries, and TV shows. And the betting interface is so simple and user friendly that you can easily find your way around and place the most profitable bets.
Important Facts and Figures– You can place several varieties of bets at 22Bet. These include accumulators, chains, singles, system bets, and so on. The online bookie offers 1000+ events to bet on every single day and over 30 types of markets for each event. It takes just five seconds to register at 22Bet Kenya.
One-Click Betting Facility– This feature allows you to bet on multiple odds with just one click. To activate this feature, you have to check "One Click Bet" in your betting slip. Then you have to enter your bet amount and click on "Apply." You have to click on the odds and bets will be automatically placed for the amount specified. As one click will lead to the placing of a bet, you have to be very careful to click on the right odds.
SMS Betting– You can place bets at 22Bet even if your Internet connection fails you. 22Bet not only allows you to place bets via SMS, but also to register a new account, reset your password, check your balance, withdraw your winnings, and get customer support.
Multiple Payment Options– You can choose from 144 banking methods to make deposits and withdrawals at 22Bet. These include bank cards, mobile payment systems, electronic wallets, Bank Transfer, and cryptocurrencies. You can also use Airtel Money and M-Pesa.
Customer Support– 22Bet offers 24/7 customer support through online contact form, email to support-co.ke@22bet.com, and live chat.
22Bet Pros and Cons

22Bet is home to a happy community of Kenyan sports bettors. The best features of the online bookie are its wide range of betting markets, large community of friendly Kenyan bettors, excellent betting odds, dedicated mobile betting apps for Android and iOS.
They also have an online casino, but unfortunately, it is not available to Kenyan bettors. Another disadvantage of 22Bet Kenya is that it does not offer any telephonic support.
Which One Should You Register At – Sportpesa or 22Bet?
Our intention is to provide comparative reviews and leave the decision making to bettors. Now that you know a lot about Sportpesa and 22Bet, you can quickly choose one of the two. If you don't want to make a choice, you can sign up at both. It is a great way to get the best out of both online bookies.
If you are looking for lucky numbers, casinos, poker, bingo, and lotteries, you will not find much at both Sportpesa and 22Bet. But SportPesa is home to an innovative feature called JengaBets, which serves to maximize your profits, and 22Bet Kenya offers betting on live events, TV shows, and lotteries. 22Bet does have an online casino, but does not offer the service to Kenyan bettors.
As far as betting markets are concerned, both online bookies are equally good although we felt that 22Bet offers more. Also, you will find more bonus offers and rewards for loyalty at 22Bet. On the other hand, 22Bet does not provide the latest sports news, stats, and live scores as Sportpesa does.
Both Sportpesa and 22Bet do not offer telephonic support. But Sportpesa supports interaction between customers and staff members on social networking sites Twitter, Facebook, and YouTube, which 22Bet does not.
If you own an iPad or iPhone and want to play on the move, 22Bet is a better option because it offers native apps for both iOS and Android. Sportpesa, on the other hand, has a dedicated mobile betting app only for Android 4.1.1 or higher. This, of course, is not an issue if you prefer betting in browser.
As you see, choosing an online betting site depends a great deal on your personal requirements. Playing at both Sportpesa Kenya and 22Bet Kenya is safe, secure, and legal as they are licensed, comply with all the gambling regulations in Kenya, maintain top industry standards, support responsible gambling, and accept bettors only if they are of legal age to gamble.