If you are looking for a licensed and regulated Kenyan online betting site, you can choose between Betpawa and Betyetu.
Both operate under the country's Betting Control and Licensing Board (BCLB) and offer live betting and pre-match betting options on desktop, laptop, as well as mobile devices. If you sign up at these online bookies, you can enjoy a slew of special features such as cashout, bonus offers, casino games, and excellent customer support.
Check out our comparative reviews of Betyetu and Betpawa before choosing one of them to bet on sports online. You may also choose to sign up at both the online betting sites.
Overview of BetPawa Kenya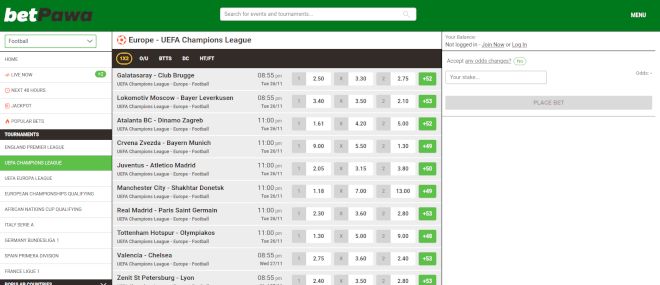 BetPawa is an online bookie operating in several African countries such as Tanzania, Zambia, Ghana, Uganda, Nigeria, and Kenya. A brand belonging to a Kenya-based company called Nanovas International (K) Limited, it operates under a license granted by Kenya's Betting Control and Licensing Board (BCLB). You use access your Betpawa account on any device of your choice, including smartphones, desktops, tablets, and PCs.
Betpawa is popular among Kenya bettors because it offers a high-quality mobile sportsbook with 24/7 customer support through call back, email, telephone, and Whatsapp. You can claim a number of bonuses, including a 100% win bonus and a refer-a-friend bonus.
Betting at Betpawa is a social experience as you can interact with fellow bettors and staff members on Twitter and Facebook. You have to follow or like the online bookie's Twitter or Facebook page/account to include a social element into your online betting experience.
Betpawa also has a strong responsible gambling policy. It accepts registrations only from Kenyans who are at least 18 years old and encourages customers to bet within their budget. If you feel that you are betting in an uncontrolled manner, you can request the online bookie to exclude you from its services.
Detailed Review of Betpawa Kenya

To get started at Betpawa Kenya, all you have to do is fill in a simple online registration form and verify your mobile number. You can then login, place bets on your favorite sports markets, and enjoy a variety of unique features.
Games to Bet On – Betpawa offers the best odds on sports events from several countries such as Germany, France, England, Spain, and Europe. You can explore sports markets such as tennis, rugby, basketball, football, volleyball, rugby league, and cricket, to mention just a few. You can also place bets on live football, tennis, and basketball events, to mention just a few.
Win KSh1,000,000 – To win this enormous football jackpot, you must first place a bet of at least KSh10 and correctly predict the results of 13 football events. You will win smaller cash prizes even if you get a few of them wrong.
Online Casino Games – When you want a break from betting on sports events, you can play entertaining online casino games such as Lucky Roulette, Fortune Miner, Jacks or Better, and Wheel of Luck.
Claim Your 100% Win Bonus – You can get a bonus of up to 100% on winning multi bets. But you need to place a multi bet with at least five selections in order to qualify for the bonus. The online bookie gives away 10% for 5 – 9 games, 50% for 10 – 19 games, and 100% for 20 – 30 games.
Making Deposits and Withdrawals – You can use Kenya's favorite payout method M-Pesa to fund your betting account and withdraw winnings. You can withdraw as little as KSh200 per transaction. The online bookie processes withdrawal requests in just 15 minutes, which means that you don't have to wait much to see the winnings in your account.
BetPawa Mobile – Betpawa's mobile betting interface is browser-based and you won't find any native mobile betting apps for Android or iOS. To start betting on the move, you have to access your Betpawa account on the browser of your smartphone or tablet and start betting just as you would on your desktop.
Customer Support – You may find the information you are looking for in Betpawa's Frequently Asked Questions (FAQ) section. If you cannot find what you are looking for, you can request the online bookie to call you back or send them a Whatsapp message. Alternatively, you can use the phone lines or interact with the online bookie on Twitter and Facebook. You can also send an email to ke@betpawa.com.
If you prefer the old-fashioned method of keeping in touch, you write to PO Box 14941, Westlands, Nairobi 00800.
You can bet as little as KSh1 at Betpawa, but you can win up to KSh2,500,000 per bet. The online bookie allows you to withdraw KSh200 – KSh1,000,000 per transaction, but not more than KSh3,000,000 per day. Betpawa's strict verification procedures ensure that the winnings reach the right person.
Overview of Betyetu Kenya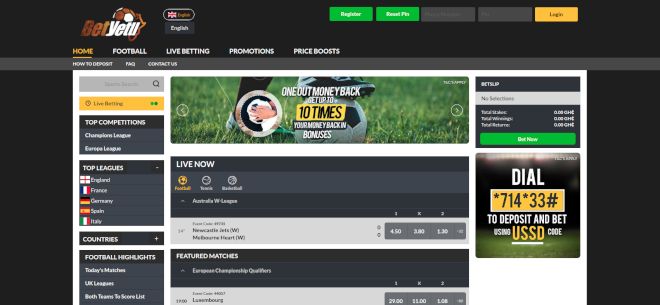 Betyetu Kenya offers in-play and pre-match betting services on a robust online betting platform from FSB Technology, a Kenya licensed supplier of online betting software. The parent company of Betyetu, Oxygen8 Communications Limited, has received a betting license from the Betting Control and Licensing Board (BCLB) of Kenya.
Betyetu is popular among Kenyan players for its rewards for loyalty; multiple betting options such as USSD betting, SMS betting, as well as online and mobile betting; and top customer support that includes support via phone lines, email, and live support. You can download a betting app for Android, make deposits using two popular Kenyan methods—M-Pesa and Airtel Money, and claim a variety of bonus offers.
BetYetu encourages Kenyan bettors to gamble responsibly and use online management tools such as self-exclusion and setting limits to control their spending. You have to be at least 18 years old to sign up at BetYetu.
Detailed Review of BetYetu Kenya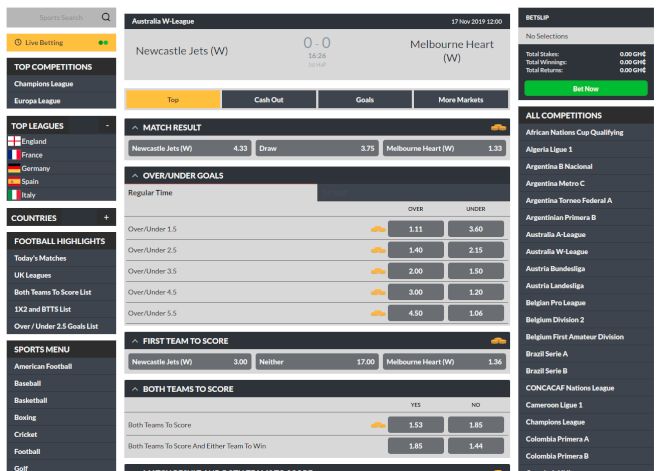 Betyetu Kenya allows you to register in the following three ways:
Make a Deposit – You can directly make a deposit using the account name BetYetu and the Paybill number 850704. The online bookie will SMS you a PIN, which you can use to login to your BetYetu account.
Via SMS – If you SMS BETYETU to 29111, the online bookie will send you a PIN through SMS. You can login to your account using that PIN.
Online Registration – Visit BetYetu Kenya on your desktop browser and fill in the online registration form to create an account. You have to verify your account before you can login and start betting.
BetYetu Betting Markets – The online bookie offers pre-match and live betting on sports markets such as tennis, volleyball, motor sports, football, boxing, cricket, baseball, basketball, American Football, tennis, and others.
You can also bet on online casino games and virtual games. The online bookie offers virtual betting on motor racing, horses, football, and greyhound racing. It also offers casino games such as roulette, blackjack, and video poker games. Some of the most played games at Betyetu Casino are Atlantic City Blackjack Gold Series, European Roulette, and American Roulette.
Placing Bets at Betyetu – As previously mentioned, you can bet in three ways at Betyetu Kenya:
USSD – Dial *474# to register and/or place sports, jackpot, multi-bets, and single bets. You can also use this method to make deposits and withdrawals and check your balance.
SMS – You can place sports bets, including multi-bets on up to 15 games, through SMS.
Online – The common way to place bets at Betyetu is online. You have to login to your Betyetu betting account on your desktop or mobile device to start betting on your favorite sports events.
Lucrative Promotions at BetYetu – BetYetu Kenya is home to several lucrative promotions such as rewards for loyalty, multibet bonus offers, cashout, and insurance offers.
Place 10 bets per week to receive free bets as rewards.
Get 60% bonus boost on winning multi-bets.
Cashout your bet anytime to wish to minimize your losses and maximize your profits.
If you lose one game in your multi-bet of at least five selections, the online bookie will give you a free bet equal in value to your bet.
Deposits & Withdrawals – You can make deposits and withdrawals through Airtel Money or M-Pesa. The online bookie allows you to withdraw a minimum of KSh100 and does not charge any commission or fees.
Placing Bets on the Move – You can choose from two options. First, you can bet in browser on any mobile device of your choice. Second, you can download the native betting app for Android.
Customer Support at BetYetu – Betyetu offers a Frequently Asked Questions (FAQ) section, which answers most commonly asked questions. If you still have issues, you can use the online contact form, email to support.ke@oxygen8.com, dial the number 070-306-5005, or connect with a customer support agent through live chat.
You can bet as little as KSh20 at Betyetu and win up to KSh1,000,000 per bet. The availability of cashout means that you can always cashout a bet that is not working in your favor. While using the cashout feature, you must remember that you cannot cashout a bet placed with bonus money.
Betting at Betpawa – The Pros and Cons

The line up of betting markets at Betpawa is definitely not the most extensive, which may be disappointing to seasoned bettors. If you are an amateur, however, Betpawa is more than capable of keeping you happy.
Customer support at Betpawa is excellent and includes support through several methods. But you won't find a live chat facility.
Betpawa Mobile is an excellent product that allows you to bet in browser on the move, but it does not offer any native apps.
The best features of Betpawa are its selection of bonus offers, in-browser mobile betting, and its excellent customer support. The biggest disadvantages of Betpawa are the absence of live help, native mobile betting apps, SMS betting, and cashout.
Betting at Betyetu – The Pros and Cons

Despite its exciting features, Betyetu falls into the category of average online bookies. The line-up of betting markets is just not as extensive as a seasoned bettor would like it to be. Even the casino and virtual game section is rather limited. There are just a handful of table and card games in the online casino. The absence of lucky number betting and large football jackpots greatly reduces the entertainment value of Betyetu.
Still, it is a licensed Kenyan online bookie with a robust online and mobile betting platform. It also offers a native betting app for Android and allows bettors to place bets online as well as via USSD and SMS.
Some of the other exciting features of Betyetu are cashouts, bonuses on winning multi-bets, excellent customer support, and insurance bets.
Which One Should You Choose—Betpawa or Betyetu?
Both Betpawa and Betyetu cater more to recreational bettors than serious, seasoned bettors. They offer online casino games and virtual betting to keep you entertained at all times.
However, if you are looking for a wider range of options, you ought to consider signing up at Betyetu.
You can choose from three ways to register an account at BetYetu. On the other hand, Betpawa offers only online registration.
You can place bets in three ways at Betyetu—SMS, online, and USSD. But Betpawa does not offer any SMS betting.
While the cashout facility is available at Betyetu, enabling you to cashout a bad bet, Betpawa offers no such feature.
Both offer excellent customer support, but there is no live chat at Betpawa.
You can bet on the move at both online bookies, but Betpawa does not offer native betting apps for mobile. On the other hand, Betyetu offers a betting app for Android devices.
The following are the common features of both betting sites:
Fast registration
Excellent customer support
Mobile betting
Pre-match and in-play betting on a wide range of sports markets
BCLB licensed
Casino games
So now that you know the pros and cons of both online sportsbooks, you can easily make a choice based on your own personal preferences.